Aztec Secret
Regular price
Sale price
$24.95
Unit price
per
Sale
Sold out
In stock, ready to ship
Free Shipping Over $99

Free 90-Day Return

Buy Now Pay Later Options
"World's Most Powerful Facial"
Deep Pore Cleansing!
100% Natural Calcium Bentonite Clay
Sun Dried
No Fragrances
No Additives

Feel Your Face Pulsate!

Facials, acne, bodywraps, clay baths, foot soaks, chilled clay for knee packs and insect bites! Enjoy the benefits of clay in your own home. Beautify & Refresh.

The product is imported directly from the brand Aztec Secret Health and Beauty Ltd in Pahrump, Nevada, USA. Made in USA.

Mix clay with equal parts of raw apple cider vinegar and/or water. Use a non-metal bowl and utensil. Stir the mixture into a smooth paste. Add more clay or liquid as needed. Apply 1/4 in. to 1/2 to the face or other area. Let it dry for 5-10 min. for delicate skin and 15-20 min for normal skin. You will feel a pulling and tightening sensation. Feel Your Face Pulsate! Remove clay by washing with warm water. Slight redness of the skin is normal and will disappear in about 30 minutes.
View full details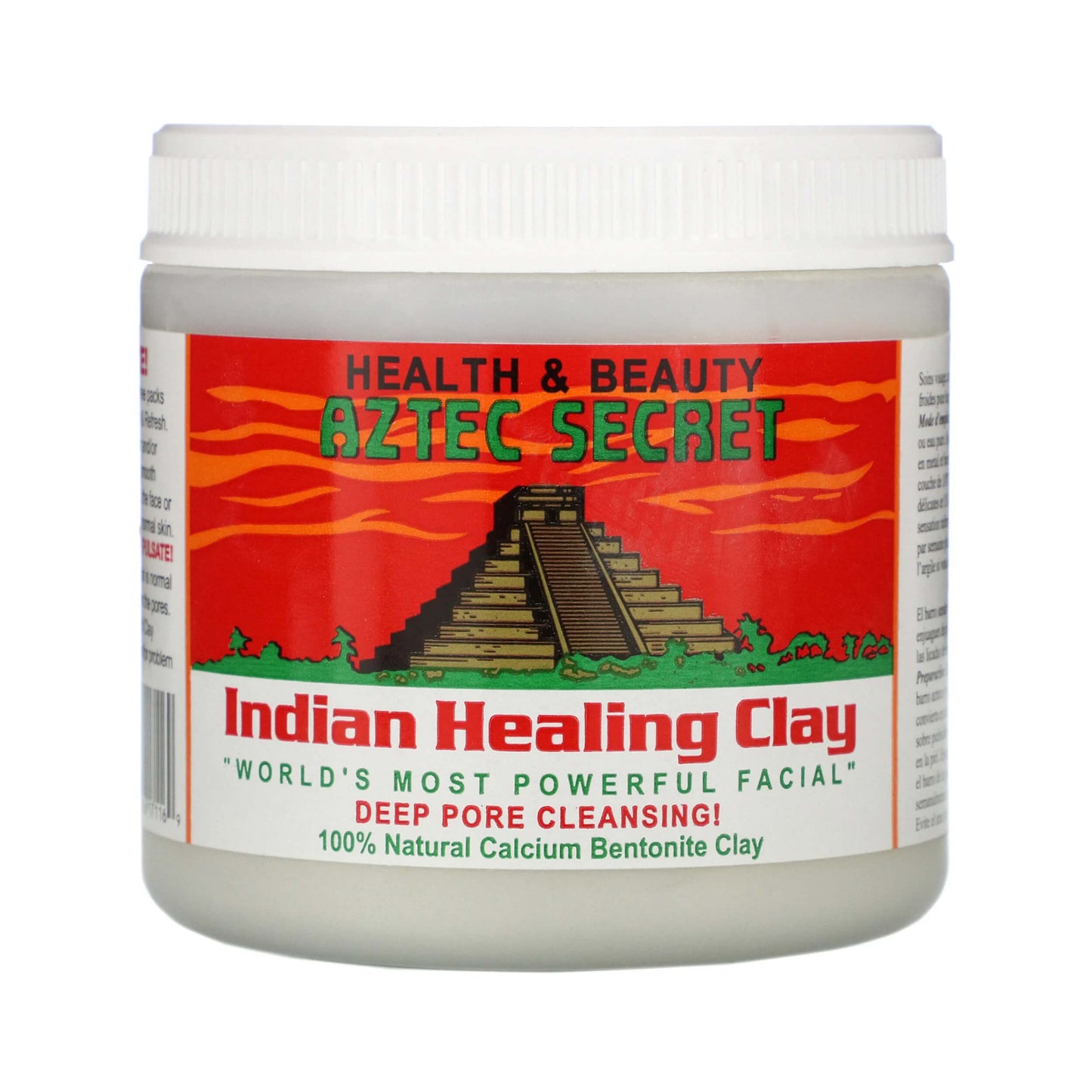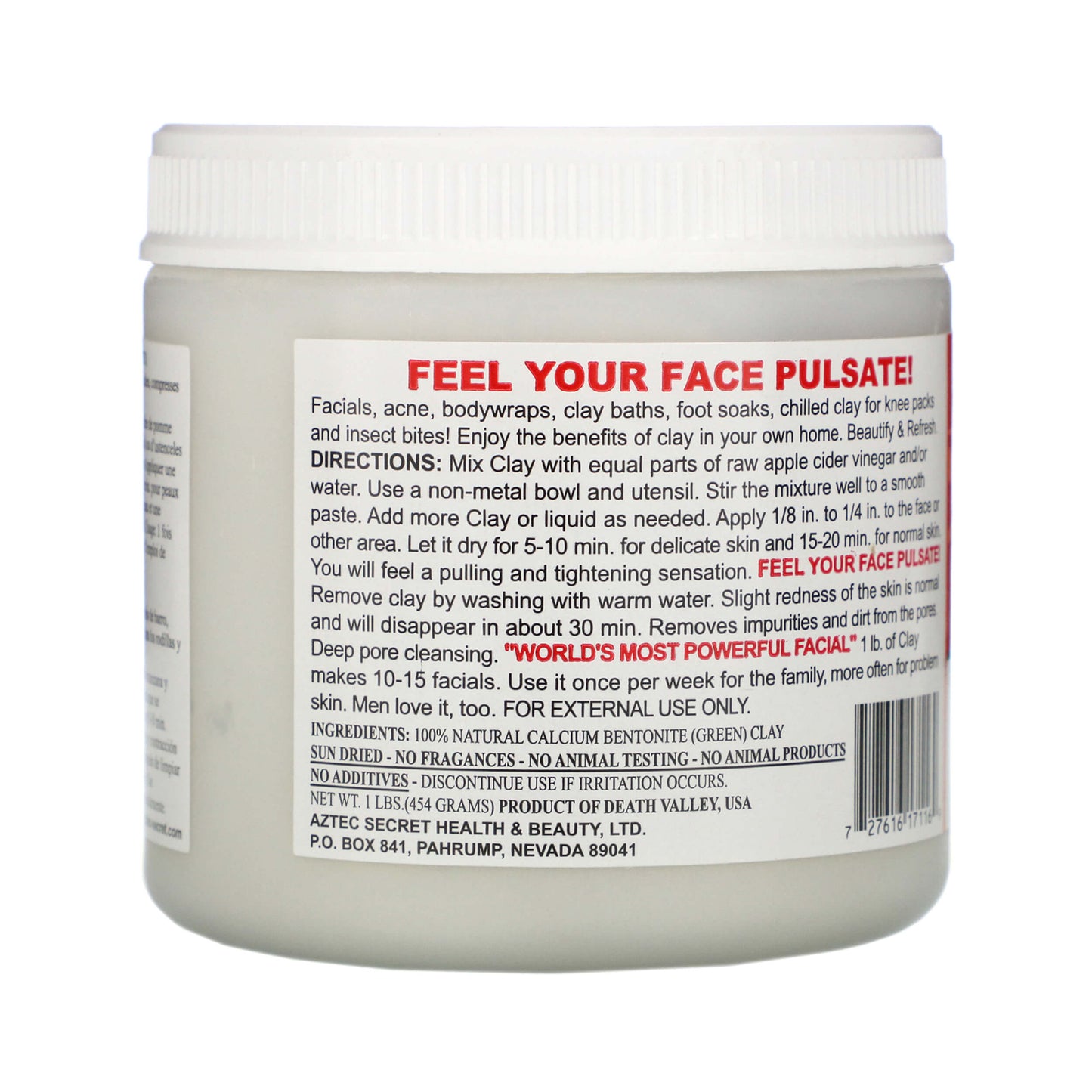 Newly Featured Products
Vendor:

Regular price

Sale price

$22.00

Unit price

per

Vendor:

Regular price

Sale price

$6.00

Unit price

per

Vendor:

Regular price

Sale price

$50.00

Unit price

per

Vendor:

Regular price

Sale price

$19.95

Unit price

per

Vendor:

Regular price

Sale price

$19.95

Unit price

per

Vendor:

Regular price

Sale price

$36.95

Unit price

per

Vendor:

Regular price

Sale price

$94.95

Unit price

per

Vendor:

Regular price

Sale price

$114.95

Unit price

per

Vendor:

Regular price

Sale price

$29.95

Unit price

per

Vendor:

Regular price

Sale price

$29.95

Unit price

per

Vendor:

Regular price

Sale price

$22.00

Unit price

per

Vendor:

Regular price

Sale price

$16.00

Unit price

per

Vendor:

Regular price

Sale price

$28.00

Unit price

per

Vendor:

Regular price

Sale price

$28.00

Unit price

per

Vendor:

Regular price

Sale price

$19.95

Unit price

per

Vendor:

Regular price

$0.00

Sale price

$28.00

Unit price

per

Vendor:

Regular price

Sale price

$36.95

Unit price

per

Vendor:

Regular price

Sale price

$82.00

Unit price

per

Vendor:

Regular price

Sale price

$49.95

Unit price

per

Vendor:

Regular price

Sale price

$24.95

Unit price

per

Vendor:

Regular price

Sale price

$24.00

Unit price

per

Vendor:

Regular price

Sale price

$42.00

Unit price

per

Vendor:

Regular price

Sale price

$69.95

Unit price

per

Vendor:

Regular price

Sale price

$54.95

Unit price

per