Nature's Way
Regular price
Sale price
$30.00
Unit price
per
Sale
Sold out
In stock, ready to ship
Free Shipping Over $99

Free 90-Day Return

Buy Now Pay Later Options
Kids Smart Vita Gummies Multi-Vitamin + Vegies contains key vitamins and minerals that can help support healthy growth and development, the maintenance of healthy eyes, bones, skin, gums, teeth, general health and wellbeing.

No artifical colours.

Children 2-3 years: Give one pastille per day
Children 4-11 years: Give two pastilles per day.
Or as advised by your health professional

Vitamin A supplements should not be taken during pregnancy or before becoming pregnant without consulting with your doctor.
Vitamins and minerals can only be of assistance if dietary intake is inadequate.
Protect from moisture.
Store below 25C.

Each Pastille (soft gummie) contains:
Retinol palmitate 366 micrograms
equiv. to Vitamin A 200 micrograms RE
Nicotinamide 4.5 mg
Pyridoxine hydrochloride 608 micrograms
equiv. to Pyridoxine (Vitamin B6) 500 micrograms
Cyanocobalamin (Vitamin B12) 0.25 microgram
Ascorbic acid (Vitamin C) 15 mg
Colecalciferol (Vitamin D3 50 IU) 1.25 micrograms
dl-alpha-Tocopheryl acetate (Vitamin E 2.5 IU) 2.5 mg
Biotin (Vitamin H) 37.5 micrograms
Spinacia oleracea (Spinach) leaf powder 5 mg
Daucus carota (Carrot) root powder 5 mg
Beta vulgaris (Beetroot) root powder 5 mg
Cynara scolymus (Artichoke) flower bud powder 5 mg. 

Contains sugars, gluten and sulfites. Vitamins can only be of assistance if the dietary vitamin intake is inadequate. Not to be used in children under 2 years. Do not use if tamper evident seal is broken or missing. Protect from moisture. Store below 25°C.
View full details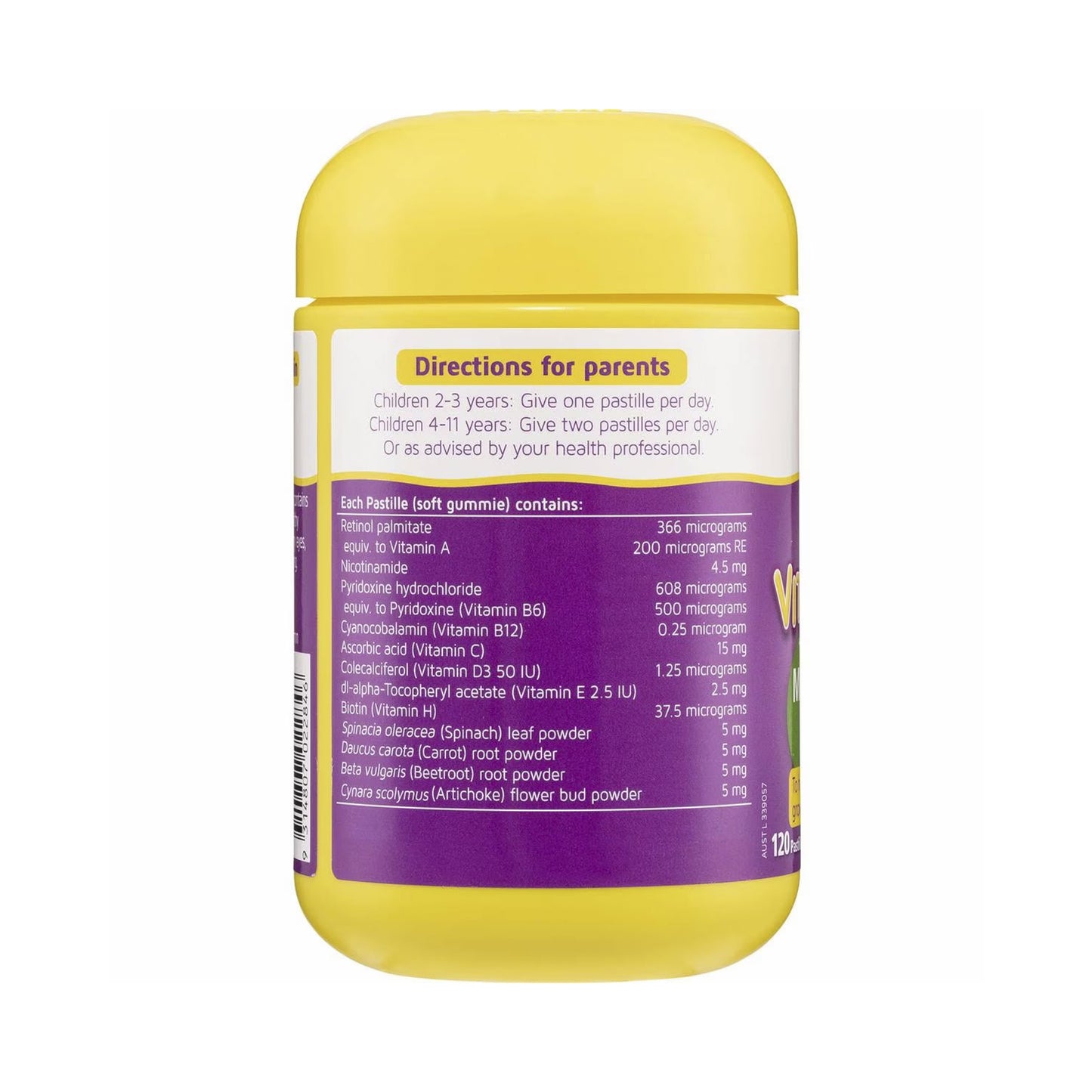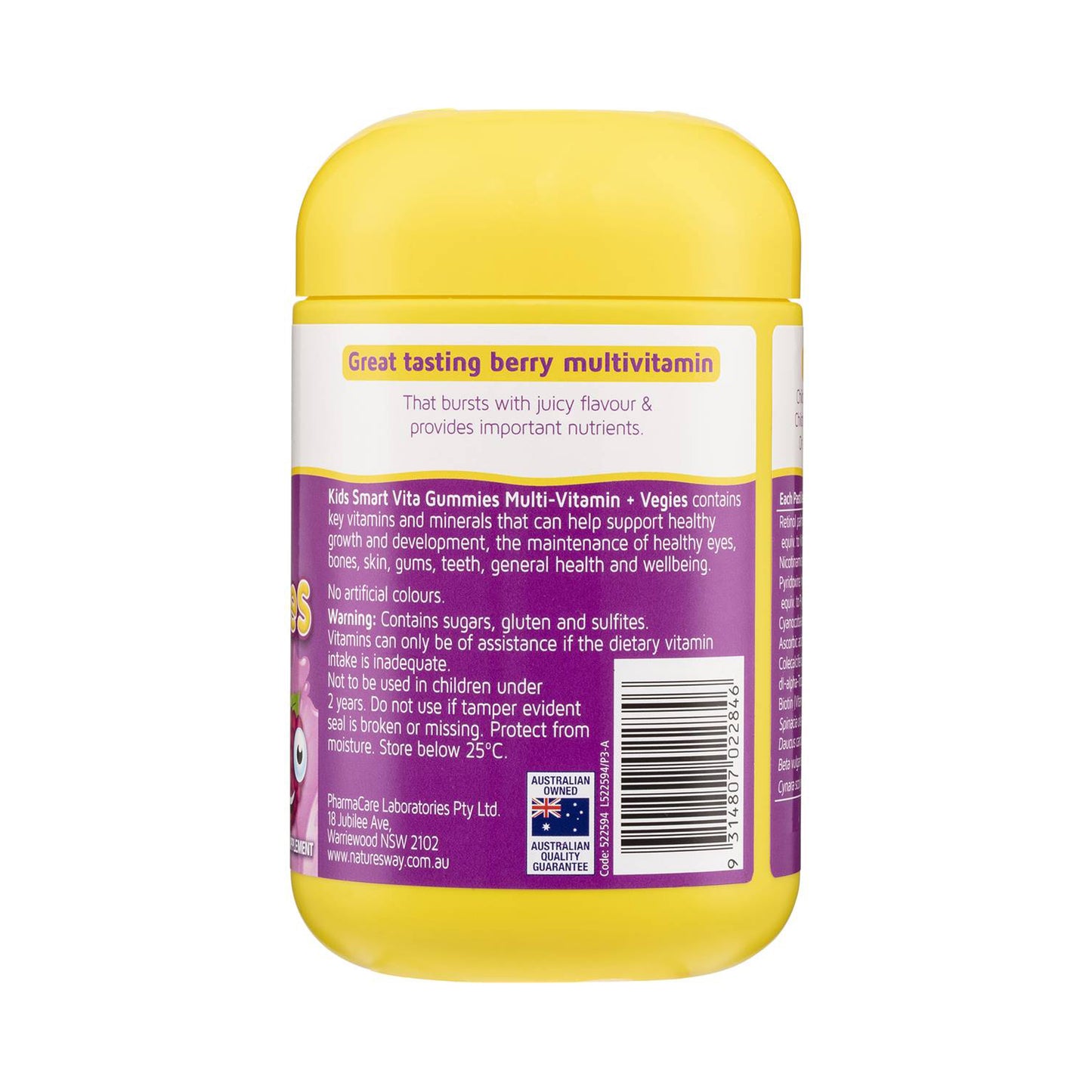 Newly Featured Products
Vendor:

Regular price

Sale price

$22.00

Unit price

per

Vendor:

Regular price

Sale price

$6.00

Unit price

per

Vendor:

Regular price

Sale price

$50.00

Unit price

per

Vendor:

Regular price

Sale price

$19.95

Unit price

per

Vendor:

Regular price

Sale price

$19.95

Unit price

per

Vendor:

Regular price

Sale price

$36.95

Unit price

per

Vendor:

Regular price

Sale price

$94.95

Unit price

per

Vendor:

Regular price

Sale price

$114.95

Unit price

per

Vendor:

Regular price

Sale price

$29.95

Unit price

per

Vendor:

Regular price

Sale price

$29.95

Unit price

per

Vendor:

Regular price

Sale price

$22.00

Unit price

per

Vendor:

Regular price

Sale price

$16.00

Unit price

per

Vendor:

Regular price

Sale price

$28.00

Unit price

per

Vendor:

Regular price

Sale price

$28.00

Unit price

per

Vendor:

Regular price

Sale price

$19.95

Unit price

per

Vendor:

Regular price

$0.00

Sale price

$28.00

Unit price

per

Vendor:

Regular price

Sale price

$36.95

Unit price

per

Vendor:

Regular price

Sale price

$82.00

Unit price

per

Vendor:

Regular price

Sale price

$49.95

Unit price

per

Vendor:

Regular price

Sale price

$24.95

Unit price

per

Vendor:

Regular price

Sale price

$24.00

Unit price

per

Vendor:

Regular price

Sale price

$42.00

Unit price

per

Vendor:

Regular price

Sale price

$69.95

Unit price

per

Vendor:

Regular price

Sale price

$54.95

Unit price

per